How Are We Doing? 
The Hewitt Fertility Centre is one of the largest providers of fertility treatment in the UK and we're proud to say that we perform an average of 3,500 treatment cycles a year, for both NHS and private patients. Our success rates are consistent with the national average and we are dedicated to continual improvement in order to provide the best services for you. 

Success Rates for IVF and ICSI 
Each couple's chance of pregnancy is different according to their individual circumstances. The graph below shows our most recent success rates for IVF and ICSI. We provide time-lapse technologies as standard and this is included routinely in your treatment. We also aim to perform your embryo transfer on day 5, when your embryos reach the blastocyst stage. Over the last 12 months, 76% of our patients had this type of treatment, of which 89% had a single embryo transferred.
The clinical pregnancy rates for fresh IVF/ICSI treatment per embryo transferred for different age groups are shown in the graph below. 
Please note that a clinical pregnancy is one where a foetal heart has been detected on a scan (and is not simply a positive pregnancy test).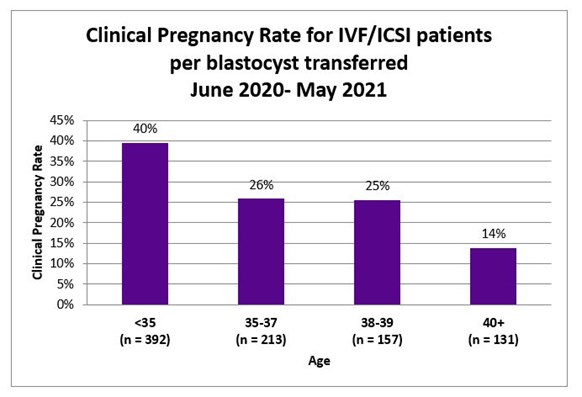 Success Rates for Frozen Embryos 
59% of IVF/ICSI patients had at least one embryo frozen between June 2020 and May 2021. You may find it useful to take a look at the chance of clinical pregnancy per frozen embryo transferred in the graph below.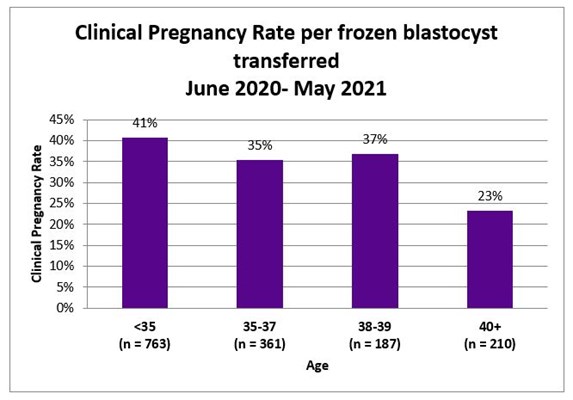 The live birth rate per embryo transferred for 2020 was 23% which is line with the national average.
The HFEA provide information on success rates for all licenced clinics in the UK. To see more of our data, which has been verified by the Human Fertilisation and Embryology Authority, please visit the HFEA website.
It must be noted that success rates are of limited value when comparing centres and choosing where to seek treatment. Please visit the HFEA website and select the 'Choose a Fertility Clinic' function for more information.
Finally, we hope the information we've provided here is useful to you – and please don't hesitate to contact us, should you require more detailed information about your individual chances of success at the Hewitt Fertility Centre.