Treatment results
Each couple's chance of pregnancy is different according to their individual circumstances but you may find it useful to review our most recent success rates. However, patients must be aware that the presentation of success rates has its limitations.
Your chances of success
We hope that the graph below will give you an indication of our most recent success rates for IVF & ICSI. Since summer 2013, we have provided time-lapse technologies for all patients and this is included routinely in your treatment. We also aim to perform your embryo transfer on day 5, when your embryos reach the blastocyst stage. Over the last 12 months, 82% (1267/1553) of our patients had this type of treatment and the clinical pregnancy rates are shown in the graph below.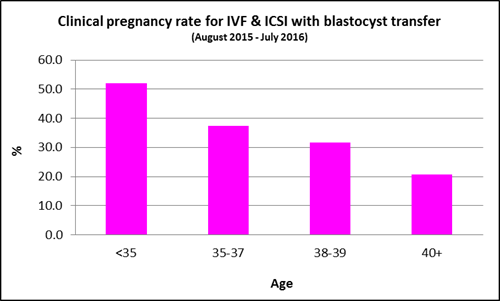 Between August 2015 and July 2016, 79% (1232/1553) of our IVF or ICSI patients had a single embryo transferred and 67% (829/1232) of these patients had at least one embryo frozen. You may find it useful to take a look at the chance of clinical pregnancy using frozen embryos in the graph below.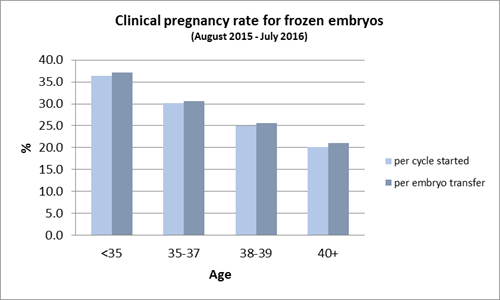 Please note that a clinical pregnancy is one where a fetal heart has been detected on scan (and is not simply a positive pregnancy test).
It remains important to look at patients' overall chance of taking home a baby. To do this we have taken data available on the HFEA's website. Please find below a table showing the number of women having a live-birth who started a treatment cycle for the period July 2013 - June 2014, showing our outcomes, according to the HFEA, to be consistent with the national average.
However, it is important to recognise that the numbers in the table below relate to treatments which took place more than two years ago and our recent improvement in outcomes are better reflected in the graphs shown above.
IVF & ICSI (July 2013 – June 2014)

Less than 35

35-37

38-39

40-42

43-44

Over 44

Number of cycles started

1000

416

287

229

56

14

Number of live births

334

112

45

32

5

0

Live birth rate per cycle started (national average)

33.4%

(33.7%)

26.9%

(29.8%)

15.7%

(21.9%)

14.0%

(13.8%)

8.9%

(4.8%)

0.0%

(1.2%)
Also, it is important to point out that using the type of information presented here to make comparisons between centres and choosing where to seek treatment, is of limited value.
Finally, we hope the information provided above is useful to you and please do not hesitate to contact us should you require more detailed information about your individual chances of success at the Hewitt Fertility Centres.
If you would like to see more of our data which have been verified by the Human Fertilisation and Embryology Authority then please visit the 'Choose a Fertility Clinic' section of HFEA's website at www.hfea.gov.uk.