Consultants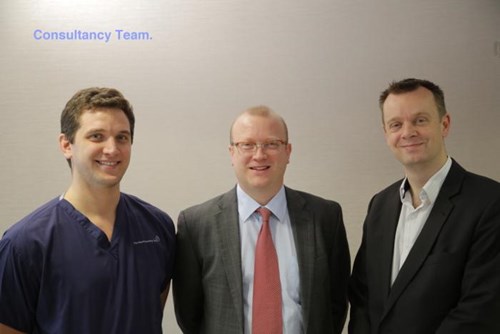 Our team of consultants are responsible for the decisions about your fertility journey - what fertility issues you may be having, what treatment is best suited to you and what medication may be needed.
As well as diagnosis and prescription, your consultant will likely be the person carrying out the more invasive procedures involved in your treatment process. In the case of IVF treatment, your egg collection and transfer (implanting the fertilised egg back into your uterus) may be carried out by the skilled hands of one of our expert consultants.
Surgical procedures for both men and women, such as treatment for Ovarian Cysts in women, or surgical sperm retrieval in men, will also be the responsibility of one of our consultant team.
Embryologists
 The Hewitt Fertility Centre houses a state of the art Embryology laboratory in which the miracle workers behind the scenes are based! Embryologists specialise in working with gametes (the catch-all term for both sperm and eggs), and the fertilisation and subsequent care of human embryos. Our embryologists are responsible for ensuring the embryos are given the best environment in which to grow whilst they are outside a human body. The Hewitt Fertility Centre is one of only a handful of UK clinics that have the luxury of offering the very latest in time lapse technology incubators to 100% of patients. The embryos are cared for in the lab for a number of days before either being transferred back into a patient or frozen for future use. Our freezing facility is one of the largest and most well-equipped in the UK and our Embryologists use years of knowledge and experience to ensure that all of our patients who choose to store their gametes and embryos with us can be rest assured that they will be safe and healthy when the time comes for them to be thawed for use.
Andrologists
Andrology is the study and treatment of conditions that solely effect men. Often when discussing fertility treatment the focus is placed primarily on the woman. However, in the UK, almost half of all infertility issues occur in men. For this reason, the Hewitt Fertility Centre operates one of the most advanced Andrology laboratories in the UK. Our Andrologists specialise in treating men with a low sperm count or low motility, those about to undergo fertility damaging procedures such as chemotherapy, men who may have had their fertility damaged by injury and also viral positive patients who suffer from HIV or Hepatitis B and C.
Our Andrology team are also responsible for running our donor bank. Male sperm donors who make the amazing decision to donate their sperm help thousands of families across the UK overcome their own fertility issues and achieve their dreams of having a baby. Our Andrology lab is able to grade, catalogue and freeze the sperm of our donors, ready to be used by those patients who may need it. If you would like to learn more about possibly donating your sperm, then please click here.
Nursing Team
Our team of dedicated and compassionate nurses are likely to be the people you will have most contact with whilst undergoing treatment at The Hewitt Fertility Centre. They work tirelessly to ensure the comfort of our patients, as well as carrying out the necessary blood tests, drug administering and minor medical procedures that may be needed during the course of treatment. The nurses work hard to ensure that all of our patients travel through their fertility journey in the most stress free and successful way possible. Some members of our nursing team here at The Hewitt Fertility Centre have been part of the team since the Centre's conception back in 1989.
Counselling Team
Our counselling team is made up of a number of a number of highly trained experts, with years of experience in dealing with people suffering with fertility concerns and undergoing treatment.
They are able to provide all of our patients with the option of support throughout their treatment. Equipping people with the tools that they may need to deal with the stresses and anxieties of diagnosis and treatment, as well as preparing them for the future and the next steps.
As well as counselling sessions, our team deal with supplementary treatments – such as acupuncture and meditation – as well as support groups.
Scientific Administration Team
While our Embryologists are working away in the lab, our Scientific Administration Team are responsible for ensuring that the centre is not just meeting, but exceeding the expectations of our Governing body, the Human Fertilisation and Embryology Authority (HFEA). They are responsible for organising, tracking and archiving patient files and the scientific data needed by the Embryology team. The Scientific Administration team act as facilitators to ensure that our Embryologists can focus their attentions on the success of the fertility treatments we carry out for our patients.
Finance Team 
Here at The Hewitt Fertility Centre, we cater for both NHS funded and privately funded patients. With recent and ongoing changes to the eligibility criteria for NHS funding, an increasing amount of patients need to pursue privately funded treatment; this is why our finance team are of increasing importance. If you are undergoing treatment here at The Hewitt Fertility Centre, your interactions with the finance team will likely involve the processing of payment for treatment or courses of drugs. However, their responsibilities stretch much further. Here at The Hewitt Fertility Centre, we are committed to ensuring that, even in the face of diminishing central NHS funding for fertility treatment, as many people as possible are able to gain access to the fertility treatment that they need. It is our finance team that will work with our patients to find a way to ensure that no matter what their financial situation, we can come to a solution that will suit them. Liaising with external finance partners and organising refund schemes for patients via our friends at Access Fertility are just some of the ways in which our finance team work to help you.
Administrative Assistance Team
With the thousands of patients who walk through our doors every year, our consultants need to ensure that they are given the support that they need in preparing and organising their clinics. Our Administrative Assistant Team are charged with ensuring that the scheduling of the Centre, the organisation of patient information and the distribution of our consultant's time is as streamlined and efficient as possible. We feel it is of the utmost importance that our patients feel their needs are catered for and that their consultant has the time to discuss and carry out their treatment without interruption and with ample time to do so; the Administrative Assistant Team are crucial in ensuring that this is the case.