The Hewitt Fertility Centre, in support of National Fertility Awareness Week is organising a cycle event to raise money and awareness for fertility issues.
The Hewitt Fertility Centre is one of the largest and most successful fertility clinics in Europe, with centres in Liverpool and Knutsford, working to help those who may be suffering with fertility concerns overcome them and achieve their dream of building a family.
It is in that spirit that the Hewitt Team have announced that, to mark the start of National Fertility Awareness Week, a 100 mile, road cycling event.
The event on Monday 30th October 2017 will see a team of staff from the hospital set out on a 100 mile round trip from the Liverpool Women's Hospital to Oldham General Hospital and back again. The half way point of Oldham General hospital is of particular significance to the Team at the Hewitt fertility Centre, as it was the Hospital where the first baby conceived by means of IVF treatment, was born. Next year will be the 40th anniversary of the life-changing treatment.
Mark Hargreaves, Communications Officer and organiser of the event said, "I have only worked at The Hewitt Fertility Centre for a short time now, but have been amazed by the life-changing work that happens every day here and how passionate and hard-working everybody is about what they do. When I saw the opportunity to contribute in my own way to the fantastic achievements of the Hewitt Centre, as well as the great people at National Fertility Awareness Week, I leapt at the chance. I have been a keen cyclist for years now and have taken part in numerous races and event days and, while the ride we have planned will be a tough one, I'm sure everyone involved will have fun and hopefully raise awareness (and a little money) for such a worthy cause."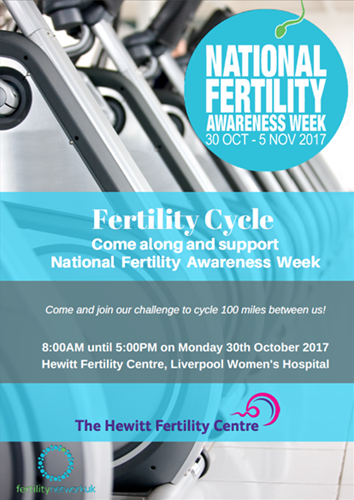 Kara Myhill, campaign manager for National Fertility Awareness Week added, "The National Fertility Awareness Week was initiated to help raise awareness, break taboos and shatter myths about being unable to have a baby. This year, the week will be focusing on several key topics; #IVFis40 – 2017 marks the 40th anniversary of successful IVF treatment, since then more than a quarter of a million UK babies have been born as a result of IVF and we want to hear those stories from as many perspectives as possible; #Fertilityfellas – Men are half of the fertility equation, yet far too often their voices are not heard; #IVFGoldStandard – Fertility Network UK are creating a social media campaign for equitable access to NHS fertility treatment, and as always encouraging people to share their experience of trying to conceive."