Clinical Director of the Hewitt Fertility Centre, Mr Andrew Drakeley is a co-author of a recent study published today in 'Scientific Reports' on predicting pregnancy test results after embryo transfer by image feature extraction and analysis using machine learning.

A Nature Journal describes the process of an (AI) application that has been named ERICA (Embryo Ranking Intelligence Classification Algorithm), which can help fertility specialists rank human embryos from a single photograph, thereby helping them choose the embryo most likely to result in a pregnancy. Full article details available here.
Mr Andrew Drakeley, Clinical Director at the Hewitt Fertility Centre, Liverpool Women's NHS Foundation Trust and co-author of the study comments: "With access to NHS funded fertility treatment restricted and with some clinical commissioning groups (CCG's) limiting the number of embryo transfer attempts regardless of outcome, it is vital that couples are given the best chance of pregnancy in the shortest possible time. This work shows promise that we can use AI to assist the Embryologists in embryo selection. ERICA looks at 2.5million data points on an embryo image in a few seconds.
"This is the first of a series of papers we have submitted to peer review scientific journals in collaboration with a team from Guadalajara University and New Hope Fertility, Mexico. Another uses AI to predict the genetic health of the embryo (euploidy) without needing to perform an invasive biopsy. A problem with AI is reproducibility. The algorithm looks for pattern recognition for a given data set. It is therefore important that it is tested against different data sets in different environments. To this end we have applied for a grant to replicate this study in Liverpool, which we would hope to start later this year".
Artificial intelligence is an umbrella term used to describe processes performed by a computer normally done by a human being. Deep machine learning refers to the use of algorithms (mathematical formulas) that allows a system to learn from data rather than from programming. An advantage of this is the speed and amount of data that can be analysed.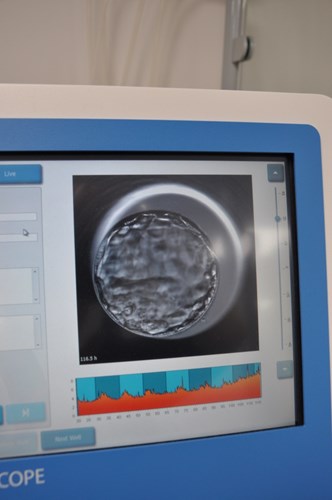 Please note, ERICA is not currently provided at the Hewitt Fertility Centre, it is hoped this study will be trialled at the centre in the near future.