The Hewitt Fertility Centre – part of the Liverpool Women's NHS Foundation Trust - celebrated the 40th anniversary of IVF treatment as well as marking their own three decades of history with a celebration afternoon tea party attended by almost 500 parents and children.
This year marks 40 years since the first ever IVF baby, Louise Brown, was born in a hospital in Oldham, Greater Manchester. The Hewitt Fertility Centre's services were established just 10 years later, providing life-changing treatments for patients across the North West and beyond ever since.
The Hewitt Fertility Centre's celebration afternoon tea event took place on a sunny Sunday afternoon in July at the Hilton Hotel in Liverpool. Among the 500 guests there was a room full of babies, toddlers, young children and even some young adults, all of whom were conceived with the help of the Hewitt Fertility Centre's clinical experts.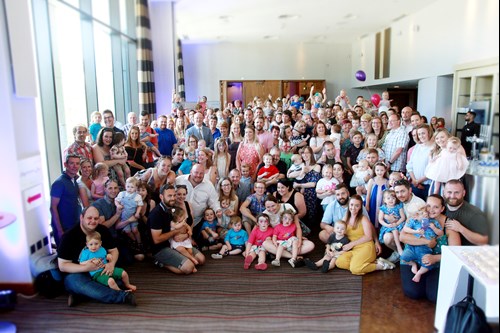 The afternoon tea style event was put together to give patients past and present the opportunity to meet each other and Hewitt Fertility Centre team who supported them on their journey to becoming a family.
The event was also a chance to reflect on the incredible developments and innovations the Hewitt Fertility Centre has made over the years - from its formative years beginning in 1989 within a small unit of the Royal Liverpool Hospital, to present day based in two state of the art, purpose built fertility centres in Liverpool and Knutsford, as well as a partnership with Fertility Fusion for patients in the Wigan area.
There were many young babies and toddlers in attendance which shows the continued success of the Hewitt Fertility Centre in making people's dreams of a family come true. But it wasn't all about babies, toddlers and young children. The three decade history of the Hewitt Fertility Centre means that many of the babies who were conceived with their help are now adults themselves. Caroline Wilkinson was one of the guests along with her son Chris, who at 28 was among the first babies conceived with the help of the Hewitt Fertility Centre.
The event consisted of a complimentary afternoon tea and lots of children's entertainment including soft play areas, bouncy castles, face painting and more.
The event was a happy but emotional time for all who attended, with many guests seeing each other and staff from the Hewitt Fertility Centre for the first time in years.
Comments on social media following the event were full of praise from all guests who joined with one comment on the centre's Facebook page stating; "Thank you for an absolutely wonderful and emotional afternoon. You have made our dreams come true."
Julie Grant came along on the day with her husband Gary and two daughters – 12 year old Caitlin and 8 year old Rebecca - both of whom were conceived following fertility treatment at the centre. Julie said: "I don't know what I'd do with my days if I didn't have these two. If you are lucky enough that it works as we were, then it is life changing. So for anyone who is going through it, stick with it."
Andrew Drakeley, Clinical Director of the Hewitt Fertility Centre, said: "Days like today are the reason why I and everyone else within the Hewitt Fertility Centre come to work. Nothing gives us more pleasure than seeing the legacy of our work and the joy we have helped create for so many families. Seeing so many people in one room together has been extremely rewarding but also quite overwhelming. We are just proud of the fact that we are able to help people and we hope to continue to do so for another thirty years."
Prior to the afternoon tea, the Hewitt Fertility Centre also hosted an open day event where those looking toward possible fertility treatment in the future were given the opportunity to come and meet their team of clinical staff for an informal chat to hear more about what fertility options are available and how the centre could help them.
If you would like to know more about the treatments available at the Hewitt Fertility Centre and how their team of experts could help you, visit: www.thehewittfertilitycentre.org.uk email hewitt.centre@lwh.nhs.uk or call 0151 702 4121.